The Cisco Company was founded by Bosack and Lerner in 1984. With its name being an abbreviation of Computer Information System Company, Cisco is a well-known company in the field of computer network. This world-class company has extended its activities by acquiring IoT and data security companies, becoming a key actor in the market of switching. In the following, different types of switches and their applications in different organizations are introduced to present powerful products of Cisco in this field.
Switches are used to connect multiple hardware devices across a network to provide for data transfer through various devices.
Key features of Cisco switches
As the commonest elements of computer networks, Cisco switches are used to connect computers, servers, closed-circuit cameras, and other devices to the network. The powerful switches offered by Cisco are highly reliable. Security features of a Cisco switch enables the network administrator to comprehensively monitor and control the network. A few features of these popular switches are listed below:
Provides 24 to 48-GB high-speed ports for network connection
Supports optical fiber through SFP module
Establishes enhanced security at 2nd layer of the network by supporting x802.1 protocol
Supports PoE and PoE+ to supply the required power through ethernet cable
Enjoys powerful software tools for managing Cisco switches
In addition, the so-called stacking feature minimizes network interruptions by stacking multiple switches to establish a logical switch in case a particular switch goes out of service.
Switching mechanism in a Cisco switch
Different models of Cisco switch go through different methods for dispatching the data. Nevertheless, all models use almost the same routing mechanism. In general, Cisco switches use either of three methods for dispatching the data and switching:
In this type of switching, data transfer and route discovery are conducted via particular algorithms. This methodology is slow and non-expandable.
In this methodology, address of the first parcel routed by the CPU is stored and used for other parcels as well. This technique is relatively faster.
Cisco express forwarding (CEF) switching
In the CEF switching, the Cisco switches dispatch data in the form or tables. This limits the excess CPU load, so that the CPU can be allocated to other processes.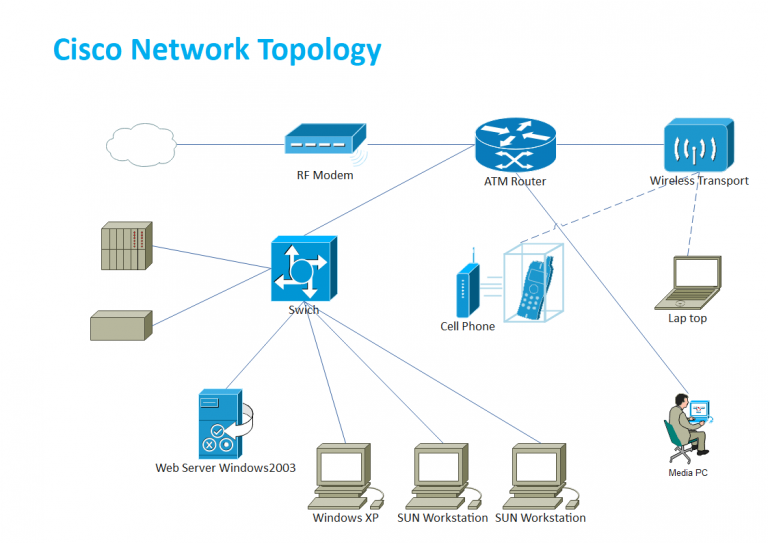 Different types of Cisco switches based on manufacturing technology
Different types of Cisco switches differ in the incorporated technology. For instance, one can consider the following classification for the switches:
Supporting PoE and PoE+ (power over ethernet (PoE) refers to a technology that enables power supply over ethernet and traffic prioritization).
Modular or independent
LAN lights or LAN base
Desktop or rack-mounted setup
Managed, non-managed, or smart
Speed and number of ports
Support for optical fiber
Based on the technology, one can refer to various types of Cisco switches as follows:
Modular switch, where you can increase the number of ports
As the name suggests, a modular switch is capable of hosting new modules, in which case the number of ports on the switch increases. A modular switch is suitable for networks that are supposed to be expanded in the future. Examples of such switches are industrial-range Catalyst Switch Series 4500 and Nexus Switch Series 7000, which are used for local and datacenter applications, respectively. Modular switches offer high levels of scalability, security, and flexibility for developing the switches across a network.

Industrial switches; suitable for high-resistance environments
As a sub-class of modular switches, the industrial switches are usually applied in industrial environments where high-resistance is a must. Establishing a high level of security at an affordable security cost, industrial Cisco switches are the best choice for highly demanding premises.
Fixed switches; fixed ports – low price
Fixed-configuration switches represent a popular group of Cisco products. In contrast to modular switches, the fixed switches have a fixed number of ports for applications in different network types. The fact that such switches cannot be scalable has lowered their prices compared to the modular switches. Examples of such switches are Catalyst Switches Series 296 and 3560.
Managed switches; suitable for big companies
If you are willing to establish a large network, the managed Cisco switches represent a good candidate. With a managed Cisco switch, you can configure each port for a specific user and will have further control over data transfer across the network. Indeed, with the help of this product, the administrator can figure out who and how different individuals have accessed to which data.
Smart switches, no console port or SSH handling
Compared to managed Cisco switches, these switches are limited in features. A smart Cisco switch has neither a console port, nor SSH handling or Telnet.
Non-managed switches; ideal and economically efficient for small businesses
With fewer features, non-managed switches are cheaper than the managed Cisco switches. This product does not need any complex configuration or startup procedure. That is, the switch starts to operate just once turned on. This simplicity has made non-managed switches an ideal choice for small businesses.
Different types of Cisco switches based on the application
With versatile sets of features, different types of Cisco switches have been presented for different applications. The following classification of Cisco switches is based on their application:
Campus LAN switches
In order to establish a local area network (LAN) within a company, the Campus switches are a good choice. Starting with 8 ports, these switches offer stacking feature with no excessive noise. The most popular models of this class include core & distribution, access, and compact switches.
Cloud-managed switches
These switches are set up in the cloud space. With a cloud-managed switch equipped with the Meraki feature, multiple ports can be controlled and configured on the web with no need to intervention by engineers. This class of Cisco switches is suitable for organizations that seek to establish software networks.
Datacenter switches
Important features for the datacenter switches include scalability, flexibility, and support for infrastructural developments. The datacenter switches are suitable for centers that are connected to powerful servers.
Different series of Cisco switches
Different series of the Cisco switches can be classified based on the security layer, hardware architecture, data transfer rate, power supply, and security characteristics. Some of such Cisco series are listed below:
Cisco Switch Series 9300
Cisco Switch Series 4948
Cisco Switch Series 6500
Cisco Switch Series 4500
Cisco Switch Series 3750
Cisco Switch Series 3650
Cisco Switch Series 3850
Cisco Switch Series 2960

Each series come with particular features and needs to be reviewed in detail. In the following, a brief description of the features of the most popular cisco switch, namely Cisco Switch Series 2960, is provided.
Cisco Switch Series 2960
Looking for a professional switch for an organizational network, the Cisco Switch Series 2960 will be the best choice. Offered in X and XR series, this product has access to the 2nd and 3rd layers of the ethernet LAN. This Cisco product is easy to install through an automated plug-and-play procedure. Various configurations performed on the Cisco Switch Series 2960 have made it suitable for every possible organizational application. The Cisco Switch Series 2960 comes in more than 29 models. Some of the most important features of this popular product of Cisco are listed below:
Provides 24 to 48-GB high-speed ports for network connection
Being modular with 4 or 2 SFP modules
Enjoys novel technology of PoE
Supplies 30-W power on each port
Is equipped with USB port for console connection
Is compatible with various management, configuration, and monitoring applications
Economically efficient
The Cisco Switch Series 2960 can store up to 16 kB of MAC address and meets requirements of Serial Port Analyzer and BPDU Guard security standards .
Procure various models of Cisco switches at affordable prices and reliable guarantees from Rayan Tajhiz
Considering the specific application, you can choose the best Cisco switch for your organization's network. The most popular and widely used Cisco switches are the fixed products with their affordable prices. If you are willing to expand the switch in a future time, a modular product would be a better choice. If you need any assistance regarding the choice and purchase of Cisco switches, technical experts at Rayan Nik Tajhiz are there to help you. With extensive services in the field of network security, infrastructural facilities, and relevant networks, Rayan Nik Tajhiz establishes security across your network. For the sake of free online consultancy, you can call the numbers mentioned on the website.