Red Hat is one of the most famous Linux distributions in the world. This company provides many services, such as storage and operating system platform delivery.
Red Hat Company created a revolution in open-source software by presenting Red Hat Enterprise Linux. Today, Red Hat's product portfolio includes cloud infrastructure, operating systems, agile integration technologies, private cloud technologies, and solutions management and automation.
Red Hat Linux Advanced Server is the first version released by Red Hat under the name Linux Red Hat Enterprise. Since the launch of RHEL, Red Hat has provided support, training, documentation, hardware validation, and other services to support customers through a Red Hat Linux subscription account.

What is a Red Hat subscription?
Red Hat Account Subscription allows you to download supported and published versions of Red Hat software. This subscription also gives you access to a rich online knowledge base and software support for advice and guidance on deploying, configuring, and managing Red Hat software, even in sensitive environments. In addition, you will access the Red Hat software immediately after the update by the Red Hat operations team and approval of the test procedures.
The value of Red Hat support accounts
By creating Red Hat support accounts, you can access all the facilities you need to use the technologies produced for advanced and enterprise environments, including support for Open Source Software, Red Hat products, and everything you need to increase the security of your software. Red Hat Group believes that by using this product, instead of worrying about the security of your operating system, you will only focus on the growth of your business.
What does a Red Hat subscription include?
Besides the software, this subscription gives you access to a community of experts, educational resources, security updates, and support tools you won't find anywhere else. Among the features that this system provides, the following can be mentioned:
Access to: Patches, bug fixing, Updates, Upgrades, Red Hat knowledge base
Technical support with the following conditions:
     24/7 access to the support team

     Get support in unplanned events

     Support on all Red Hat products
Benefits of a Red Hat subscription
Technical support: You have access to phone and online support, as well as the documentation, knowledge base, and tools needed to keep your systems running—and solve problems quickly.
Security resources: Red Hat solutions are tested and hardened to make sure they're as secure as possible. They're also backed by a dedicated Product Security team that monitors, identifies, and addresses risks that affect our products.
Partner ecosystem: Red Hat has relationships with thousands of software, cloud, and hardware partners, so you can deploy knowing that the technology in your environment will work with Red Hat.
Product roadmaps: With a subscription, you can view Red Hat product roadmaps and provide feedback to help shape the direction of the products.
Proactive analytics: Many products in the Red Hat portfolio are integrated with Red Hat Insights and analytics services, which can help you proactively identify and remediate security, compliance, and configuration risks.
Types of Red Hat support accounts
Red Hat subscription is not tied to a specific version of the product, so there is the freedom to choose from several supported versions. The main difference among accounts is the difference in the level of support. In the table below, you will get to know the different tiers of support accounts of Red Hat under the title of Red Hat Enterprise Linux Server: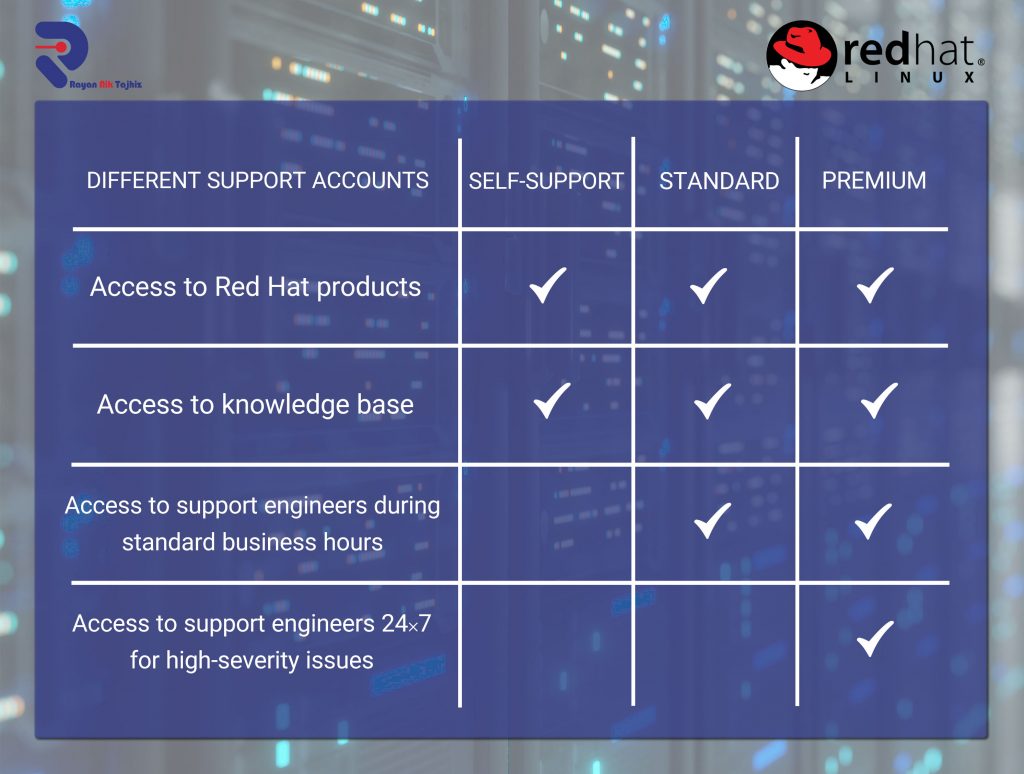 To know more about Red Hat products, you can call +98 2188353400 extension 222.