Among all operating systems, the Linux operating system is one of the most famous and widely used operating systems in the world. The Oracle team has produced and optimized the Oracle Linux Operating System in such a way as to bring maximum performance to organizations, along with hundreds of products provided by Oracle
Organizations will access Oracle Linux OS patches, updates, and fixes through the Oracle Linux Support Account.
What is the Oracle Linux Support Account?
Everyone can use, download and subscribe to Oracle Linux for free. However, organizations should create an Oracle Linux support account for commercial use. By creating an Oracle Linux account, organizations can access all related software packages, required updates, and technical support services provided by the Oracle team. Without this account, companies and organizations have to delete and reinstall it to update their software and related packages, which is a time-consuming task in large organizations and sometimes takes several days.
Types of Oracle Linux Support Accounts
Oracle provides organizations with three types of support for Oracle accounts, according to the year of release of different versions and the type of services it offers. These supports are provided 24×7, and organizations will access patches, updates, and fix security issues of the Oracle Linux operating system through the web and phone. Having a representative office outside Iran, Rayan Nik Tajhiz Company has provided these accounts to organizations. For this reason, you can contact the sales department of Rayan Nik Tajhiz Company at 88209267 extensions 220 to receive advice and get the following accounts.
Basic Level
At this level, Oracle provides 24*7 support to all its customers. This level of support is economical and cost-effective for most organizations. Organizations that provide this level of support should be careful that they cannot receive regular support from old versions of Oracle Linux and should get the Extended version of the account.
Premier Level
The Premier level is available for Oracle Linux versions 5, 6, 7, and 8. Developing and updating operating systems for large organizations can be a long and complex procedure. Sometimes, organizations are apt to use the same version of Oracle Linux that they have purchased and do not want to change it. Oracle has tried to provide support for different versions of Oracle over a long period to reduce the concern of organizations. According to Oracle's policies, organizations that use versions 5, 6, 7, and 8 of Oracle Linux can use the premier-level support account for ten years after the release of these versions.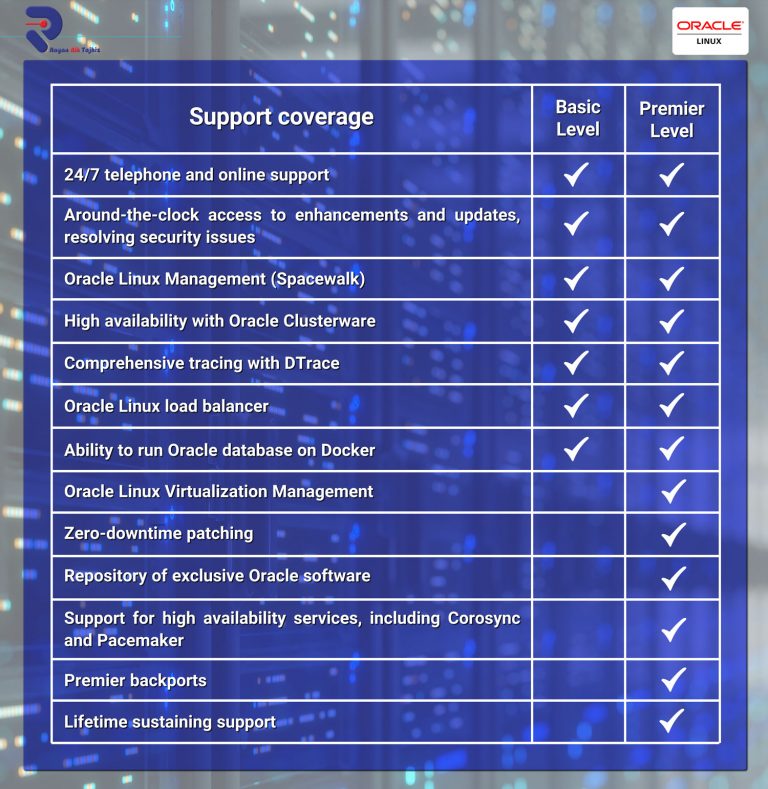 Extended Level
After 10 years from the release of Linux versions, organizations can use the extended version for three years to receive Oracle Linux account support. Organizations should pay attention to the time of the released versions according to the table below when preparing a support account.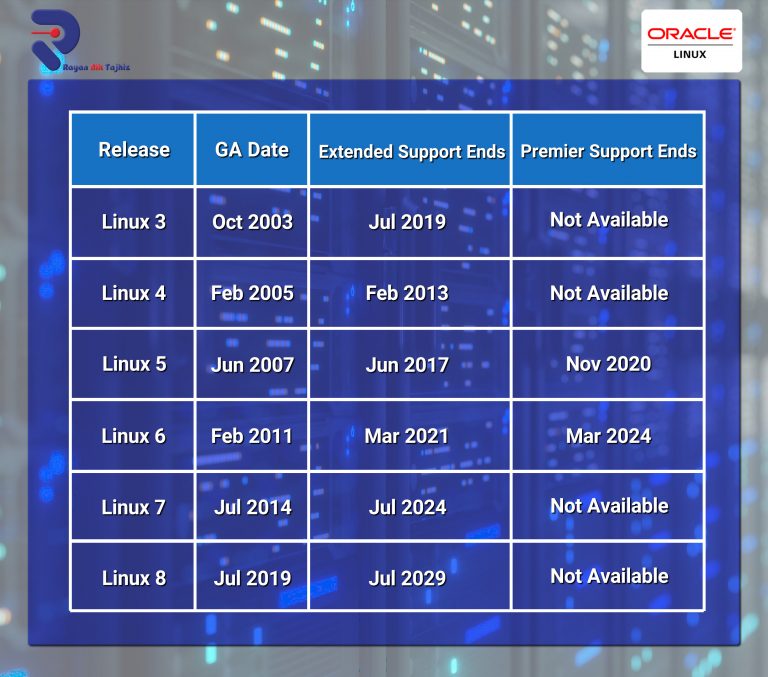 To buy the above accounts, you can contact the sales unit of Rayan Nik Tajhiz Company.